REDUCING POLYGONAL COMPLEXITY / OPTIMIZING
Maintaining the lowest possible polygonal complexity and achieving high-quality optimizations for the various Level of Details is always a huge priority when creating Large Area Databases.

One low-poly, large area dataset, I recently developed; utilized Goggle Earth to stream the 3D runtime model; which featured highlighted areas of the city of Frisco Texas.

This initiative I undertook with Goolge Earth's team, several years ago; is very simular to the one recently undertaken by a 10 person team at AEgis utilizing Creator and Terra Vista. http://www.nbcolympics.com/venuetours/

Due to the fact a great deal of my simulations are used in "scripted exhibits"; distributed to the public via DVD and news broadcast; I am often able to favor model fidelity and details towards the central areas which I know in advance are going to receive the most visibility in the final production.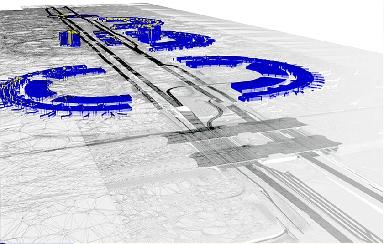 Core tessellations are much higher than exterior areas
I have taken on many initiatives over the years for the purposes of studying the most effective use of automated polygonal / model optimization. While always implementing sound modeling techniques and harmonious toolsets in order to assure models were developed as efficiently as possible from the start.

Techniques depending heavily on the most effective use of high-quality texture development has always been enforced. Texture and model development has always undergone several iterations when models were to be utilized in both High-Definition scripted production and interactive RunTime environments.

Some projects, involved very high levels of data accuracy; to maintain simulation compatibility with all geocoordinated revisions of the CAD design files. As a result, very complex TINs (Triangulate Irregular Networks) were constructed in these cases to achieve both the topographical accuracy and the proposed design integrations expected.

Other projects only required simple building extrusions based on the areas GIS shape (.shp) files. Followed by, scripted / automated texturing of each above ground facilities with generic in-house libraries; or each were individually mapped with onsite elevations photography.
"Prop Creation" as I termed it; (given the fact that such items are rarely the "stars" of large area Urban simulations;) is also handled with great efficiency and determination in maintaining the lowest possible poly count. Again, a heavy dependency on efficiently developed "wrapped" textures often aids in achieving optimum results.